Welcome from the Principal
Dear parents,
It is my pleasure in welcoming you to Al Shohub Private School.
Al Shohub Private School was founded in 1999, by Her Highness Sheikha Shaikha bint Saif Al Nahyan, in order to ensure the availability of outstanding girls' education in Abu Dhabi.
It is our aim to empower all girls and young women to become the influential leaders of tomorrow, through an innovative and inspiring curriculum, which knows no limits to what can be achieved.
Through the English National Curriculum our students receive a well-rounded education which not only develops and challenges them academically, but also instils key skills, values and attributes, which will remain with them throughout their education and adult life.
In addition, we provide the appropriate Arabic Language, Social Studies and Islamic Studies Curriculum (where applicable) in accordance with the requirements of our regulatory body, ADEC.
We ensure that our Emirati students are proud of their heritage and the values of Emirati and Islamic culture, and that our international students are respectful of these values and proud to live in the modern and cosmopolitan capital of the United Arab Emirates. We encourage all of our students to be actively involved in the local community as well as understand the impact they can make on a global scale.
Parent partnerships are an important factor in the success of any school, and at Al Shohub, it is our aim to work closely with our parent community, ensuring all families are kept well informed of, and involved in, their children's education, ensuring our students are at the heart of everything we do.
Most importantly, we want Al Shohub Private School to be a place where our students are always happy and safe, and where they can thrive to become the very best that they can be. A young woman graduating from Al Shohub Private School will possess qualities such as integrity, compassion, kindness, resilience, loyalty and respect, and will take with them unique and memorable experiences from their time at our school, which they will look upon fondly for many years to come.
With very best wishes,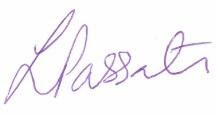 Mrs. Lisa Passante
Principal